Camping With a View in a Fire Lookout Tower
Travel Inspiration
June 2nd, 2015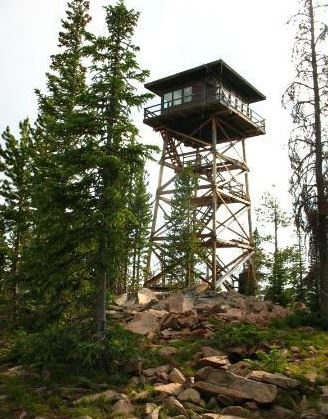 On a mountain top in the Wyoming wilderness is the Spruce Mountain Fire Lookout Tower. The lookout tower was used to spot fires in the surrounding forest until the 1970s. It was then turned into a campsite of sorts, offering campers a 360 degree view of the Wyoming wilderness.
This fire lookout tower is the next level of camping… although it's not the place to go if you are a Glamper. You will have to climb up the 55 foot tall tower carrying all your supplies. The tower does have two twin beds, a small stove and fridge, some cooking supplies, and a table and chairs, but no running water or electricity. There is an outhouse with a pit toilet near the base of the tower. Just remember those views!
The view from the tower is amazing in spring when flowers blanket the surrounding landscape. If you're lucky you might even spot a black bear, cougar, or elk.
When not gazing out at the view, check out some of the great nearby trails for hiking and biking, or head over to the nearby Rob Roy reservoir for some fishing. Want to try your hand at prospecting for gold in the Wyoming wilderness? Try your luck at Douglas Creek Gold District.
The Spruce Mountain Lookout Tower can be rented out for $40/ night from June through September. Reservations fill up fast, so book early! You can make reservations by calling 1-877-441-6777 or visiting Reserve America.
What do you think? Would you like to camp in a fire look out tower? Let us know in the comments below.