How Tos & Tips
September 5th, 2015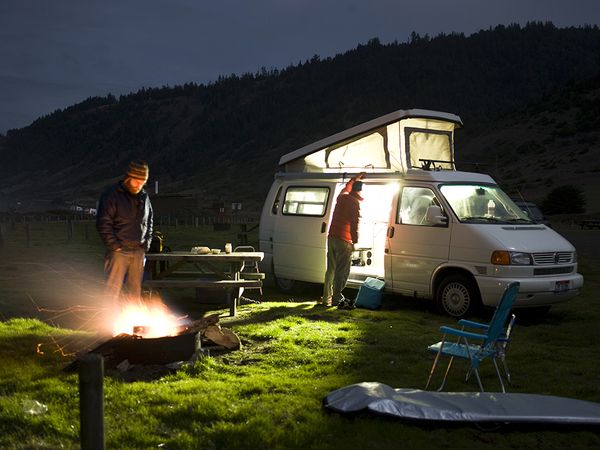 Camping offers you the chance to enjoy nature with your friends and family. A cozy tent under the starlit sky with a warm campfire is all you need to relax and rejuvenate amid nature.
Make your next camping trip even better with the following nine tips:
1. Light up the Night
To make your campsite more inviting, bring along a couple of lanterns in addition to your usual headlamps and flashlights. The Goal Zero's Lighthouse 250 LED Lantern with Switch 8 Power Hub is perfect to place on a table. It's powered by solar energy and gives 250 lumens of light during the night.
If you are backpacking, pack a lightweight solar lantern like the Lucie Light in your bag. For in-tent lighting, consider a tent like the Big Agnes mtnGLO tent that features built-in lights, or bring along a string of solar powered twinkle lights.
2. Camp Close to Home
You don't need to wait for week long vacation to enjoy a camping trip. No matter where you live there are places nearby to camp. Some campsites are even easily accessible via bike or train from cities. For instance, Indiana Dunes State Park features 140 campsites and provides easy access via train from downtown Chicago. Or if you are in Colorado, visit Cherry Creek State Park which is only a 12-mile bike ride away from the downtown Denver.
3. Try Backcountry Camping
Don't make the mistake of avoiding a backpacking trip because you lack the necessary gear. A novice backpacker doesn't really need ultra lightweight, ultra expensive, gear for a successful trip. People with enough stamina can carry pretty much carry everything in their usual backpack for a night or two in the wild. The key is to aim for a campsite only a few miles away to be rewarded with the camping trip of a lifetime.
4. Bring a Comfy Pillow!
A comfortable pillow is the key to a peaceful and restful night's sleep. To ensure that you don't have to call the chiropractor after your trip, get yourself a comfortable pillow for your next camping trip.
The Therma-a-Rest Stuff Stack Pillow is a stuff sack lined with micro fleece. Simply flip it inside out and stuff your clothes inside and make it into a comfortable pillow. Another easy to carry pillow is the Sea to Summit Ultralight Pillow that pumps up to 5.5 inches and weighs only 2.5 ounces.
5. Make a Reservation
It is always good to plan your camping trip ahead of time so that you don't end up scrambling to find a place to pitch your tent. Stay stress-free by reserving a camping site at least a week before your scheduled arrival. These days most of the campgrounds have a reservation system where you can reserve either online or by phone.
6. Start Your Day Right With a Cup of Joe
Just because you're camping doesn't mean you have to give up your favorite morning pick-me-up. Make your camping trip even better by bringing along some flavorful and aromatic coffee.
For an instant brew try Starbucks Ready Brew. The convenient single-serving foil packets allow you to have your coffee anywhere. If you want to go a step up form instant coffee, invest in a Three-Cup Titanium French Coffee Press or the GSI Outdoors Collapsible Java Drip Slim Silicone Drip Coffee Maker.
7. Bring Along the Whole House
Camping doesn't have to happen in a tent. Why not experience a bit of van life? You could go the high end route and get yourself a ready made campervan like a Sportsmobile or the Volkswagen Eurovan. Or you could save some dough by convert a regular van into a camping mobile by adding a comfortable bed platform. The last option is to rent a campervan from the numerous nation wide van rental companies.
8. Eat Well
Eating and camping often go hand in hand. Don't think that just because you're out in the woods you need to survive on granola bars and freeze dried meals. There are tons of ways to store and prepare easy healthy foods while you are camping.
You can stuff hard cheeses in your backpack that will stay fresh for many days. You can fill a cooler with fresh veggies to make fresh salads or grill over the fire. Bring along simple tools like a cutting board to cut fruits, veggies, and cheese and a small spice kit like the Coghlan's Multi-Spice Pack that contains spices like garlic, salt, black pepper, cayenne pepper to add more taste to simple meals.
9. Be Organized When it Comes to Packing
One of the most important camping tips is to organize your camping gear. Spend two hours locating the gear that has been stored around your house or garage. Be sure to pack items such as a lantern, extra batteries, sleeping bag, tent, lighting, bowls, spoons, knife, coffee making machine, mugs, water container, non-perishable food items, tissues, wipes, and hand sanitizer to name a few.