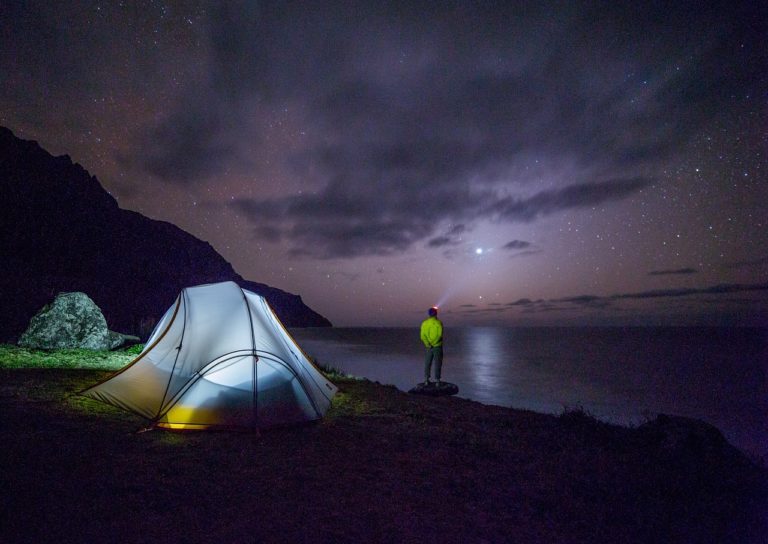 We may be RV junkies, but that doesn't mean we don't enjoy getting out in the back country now and again! Tent camping is its whole own awesome experience, and it's well worth doing if you haven't tried it out yet. That said, you need to have a plan in place to ensure you've got all the goodies you need to fully enjoy the experience.
From basics like tents and sleeping bags to cool camping gear and gadgets you might not have initially thought about, in this post, we're going to walk you through the camping items you need to fully enjoy a night or three under the stars. So if you're ready to "rough it," keep on reading!
First Things First: Create a Camping Checklist
While the specifics of your camping kit may vary, one thing's for sure: you need to make a checklist if you want to ensure you're going to have everything you need when it comes time to pack up and ship out.
While we'll cover some of the most important and common camping accessories and supplies in this post, you'll need to do your own research based on your destination and planned activities to ensure you actually have all the stuff you need. For example, are you camping in a warm-weather locale or a wintery clime? Will you be taking on adventures like kayaking or mountain biking, or are you going to keep it fairly low-key, maybe taking a hike or two but mostly kicking back at camp? Are you the type who won't be satisfied unless you can cook your own gourmet camp meals, or will trail mix and protein bars tide you over for a weekend?
Either way, it's all up to you, of course… but make sure you take the time to figure out what you want before you find yourself in the middle of the woods without something essential!
Now, what do you actually need to *put* on that checklist?
So glad you asked. Here's the camping equipment we wouldn't leave home without.
Camping Tents
If there's one piece of camping gear you absolutely have to have, it's a tent. Staying sheltered from the elements is critical to your safety, especially if you're camping somewhere cold or rainy. (All to say nothing of the wildlife you may encounter without that canvas between you and the outside world.)
Of course, choosing a tent is as deeply individual as picking a camping destination. Going on a solo backpacking trek? You'll want a small, lightweight tent that you can easily carry and put up without assistance. On the other hand, if you're taking the family to a developed campground, you can probably afford to have a larger, heavier tent that takes a little bit more finagling to assemble (but offers more space and luxury while you're inside).
Here are a few camping tents to consider.
1. ALPS Mountaineering One-Person Tent
With an easily-assembled two-pole setup and sturdy, free-standing aluminum design, the ALPS Mountaineering One-Person Tent is the perfect shelter for adventurous solo backpackers… especially since it packs down small and only weighs in at 4 pounds, 4 ounces. The tent kit comes fully equipped with #8 zippers, storage pockets, gear loft, stakes, guy ropes, and one doorway, and the fly offers both water resistance and UV protection as well as creating an extra storage space. All for less than $100 on Amazon!
2. Coleman Cabin Tent with Instant Setup
Coleman camping products are industry standard for a reason, and you'll understand that reason when you invest in the Coleman Cabin Tent with Instant Setup. Going from zero to pitched in less than a minute, this tent is both generous in living space and reliably built, coming in 4-, 6-, and 10-person sizes. Welded floors keep you dry even in inclement weather, and double-thick fabric means it'll be with your family for many camping trips to come. Plus, the integrated rain fly makes it even easier to stay cool and dry, no matter where your adventure takes you.
Other Critical Camping Gear
From camping clothes to headlamps, here are some other items you definitely don't want to get lost in the woods without.
3. CANWAY Sleeping Bag with Compression Sack
Your tent is your first layer of protection from the elements, but in order to ensure a good night's sleep, you also need a sleeping bag — and you need one that'll work for the temperature and climate you're camping in. The CANWAY line of sleeping bags makes this easy, since they're rated for four-season use, keeping you toasty down to 32 degrees Fahrenheit, and they're perfect for both adults and children. The compression bag makes it easy to pack your sleeping bag even if you have limited space, and the material is both lightweight and waterproof. Plus, you won't pay an arm and a leg for it like you might at some fancy outdoor purveyors; these sleeping bags start at just $29.99!
4. Black Diamond Spot Headlamp
Whether it's just quick trips into the woods in the middle of the night for a bathroom break or navigating a trail after sunset to visit with some owls, having high-quality camping lights is a non-negotiable part of any camping trip — and Black Diamond is about as high-quality as it gets. The Black Diamond Spot Headlamp emits a shockingly powerful 300 lumens, and includes a variety of settings including strobe, red night-vision, and lock mode. It's also waterproof down to 1 meter of submersion for up to 30 minutes, so while we wouldn't recommend it for a snorkeling trip, it'll surely survive a rainy night in the woods.
5. Moisture-wicking Clothes
I'll never forget the first time I went camping in the Mount Hood wilderness in March. I'm a native Floridian, and there was still snow on the ground — and my idea of "camping clothes" were fashion sweatshirts and cheap leggings. Luckily, I was with an Alaskan friend of mine who quickly whipped me into shape by telling me that "cotton kills," before generously lending me some duds that would actually keep me warm and dry.
Even if you'll be in a warm-weather area, you'll probably sweat on your camping trip, and wearing moist clothing after the sun sets and temperatures start to drop can be a recipe for disaster. So dispense with the cotton and look instead for wool, polyester, and synthetic blends that can wick away your sweat and keep you from shivering.
Camping Cooking Gear
Some campers are perfectly happy subsisting on beef jerky, mixed nuts, and protein bars, especially if they're just heading out for a weekend. But for others, proper cooking equipment is high on the list of camping essentials. Here are some of our favorite campsite cooking products!
6. Etekcity Ultralight Portable Outdoor Backpacking Camping Stove with Piezo Ignition
When you're backpacking, you don't have a whole lot of additional space or weight to dedicate to bringing along a whole grill. But that doesn't mean you can't enjoy a hot meal after a long day slogging it out in the wilderness!
The Etekcity Ultralight Portable Outdoor Backpacking Camping Stove with Piezo Ignition is made of a durable combination of aluminum alloy and stainless steel, so it's resilient to high temperatures while still maintaining a low weight. It's also compatible with any 7/16 thread single butane/butane-propane mixed Fuel canisters (EN 417), and adheres to the U.S. Forest Service's "leave no trace" principles.
7. Portable Percolator
If there's one thing that's absolutely non-negotiable, it's coffee in the morning… and it doesn't matter whether you're waking up at home in your bed or under the stars in the mountains. Investing in a portable percolator can make freshly-brewed java while camping a reality, so long as you have a camp stove (or a plain old campfire!) to warm it up over.
We like GSI's 8-cup enamelware percolator because it's lightweight, sturdy, attractive, and can easily be used on your RV or even at home as well. It also comes in a variety of fun colors, because, hey, style still matters, even out in the woods!
Even for those who usually camp in motorhomes and travel trailers, getting out under the stars is a worthwhile experience — and one we hope you enjoy to the fullest. And don't forget, when you're done roughing it and ready for some luxury, RVshare will still be here!
This post may contain affiliate links.