Travel Inspiration
September 17th, 2015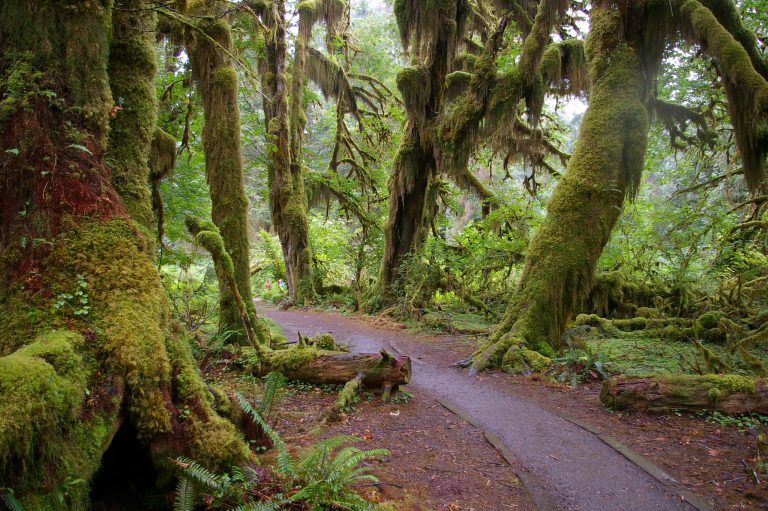 From purple mountains majesty to amber waves of grain — every year, thousands of families and individuals head to the many national and state parks that dot the U.S. One popular destination is the great state of Washington. With moderate temperatures, vast forests, and access to the Pacific Ocean, camping in Washington offers the diversity that many states lack.
Unfortunately, due to its popularity, many desirable campgrounds are crowded, making it difficult to find a site. Also, many take reservations up to nine months in advance, so yurts, cabins, and lighthouses fill up quickly, particularly on weekends and holidays. This leaves most prospective campers three options: reserve early, camp during the week, or choose a less popular location. The following ten campgrounds are more obscure and are likely to have vacancies when others do not.
1. Boundary Dam Campground
Boundary Dam Campground is located 107 miles north of Spokane on the Pend Oreille River in the far northeastern area of the state of Washington. This is a free campsite that provides access to the mountains and water, but it is a small one with only about six sites. There is, however, a recreational campground upstream that has eight RV sites, as well as tent sites. A third, primitive campground can be reached by boat.
The primary, year-round campground has restrooms and running water. Activities include backpacking, boating, fishing, and horseback riding. There is a picnic area and a boat launch at the Boundary Reservoir. If these campgrounds are occupied, there are similar sites operated by the Department of Natural Resources (DNR) or Forest Services nearby.
2. Curlew Lake State Park
Just south of the Canadian border, the 123-acre Curlew State Park is just eight miles from the Stonerose Interpretive Center and Eocene Fossil Site in the historic gold rush town of Republic, Washington. The park's camping area has 57 tent spaces, 25 utility spaces (18 are full hookups and seven are water and electric only), two restrooms, four showers, and one dump station. The hookups sites can accommodate RVs up to 40-feet. Eight sites overlooks the lake.
There are 10 unsheltered picnic tables available first come, first served. There are two boat ramps to the 5.5-mile lake where freshwater fishing for bass, tiger muskie, and trout is popular. Due to bald eagle, heron, and osprey nesting, bird watching is also a favorite endeavor. Additional activities include the following:
Boating
Grilling
Hiking and biking
Swimming
Water skiing
Wildlife watching
There is also an amphitheater. Be advised, like many state parks, Curlew Lake State Park requires a Discover Pass for vehicle access for day use. This is usually absorbed in the camping fees if you are spending the night.
3. Cypress Head Campground
This campground located on Cypress Island has the unusual honor of being accessible only by kayak or motorboat. Although there are rock and gravel beaches on the north and south sides, the northern beach is the more convenient area to bank your boat. The campsites are on the easternmost part of Cypress Island and all ten have gorgeous views.
This is a primitive campground that doesn't supply fresh water. It is advised that you boil or sanitize any water that you take from the natural sources. Plus, with no running water, the facilities are limited to a composting toilet. There are two picnic areas and fire rings are available. Visitors are encouraged to "leave no trace" in this rustic and remote location. Camping is free.
4. Lewis & Clark Trail State Park
This 37-acre camping park, featuring 1,333-feet of shoreline on the freshwater Touchet River, can be found 25 miles north of Walla Walla. Open from April 1 to October 31, this park has 24 standard sites—most of which fit RVs—and a few recent Teepee site additions.
There are 50 unsheltered picnic tables available on a first come, first served basis. Historical displays inform visitors about early homesteading, as well as Lewis and Clark. Other activities include the following:
Badminton
Baseball
Bird and wildlife watching
Freshwater fishing (a recreational license is required for fishing at Washington state parks)
Hiking
Swimming, tubing, and wading
Be advised, Lewis & Clark Trail State Park requires a Discover Pass for vehicle access. This is usually absorbed in the camping fees.
5. Moran State Park
Located on Orcas Island, Moran State Park is 5,252-acres featuring five lakes and over 30 miles of trails for hiking. The island is reachable via ferry.
This park provides five different areas with campsites. There are 151 tent spaces with a maximum site length of 45-feet (some campsites and areas will not fit large RVs), 5 "glamping" sites with furnished canvas tents, five restrooms (one ADA), 10 showers (two ADA), and one dump station. There are also four kitchen shelters, two with electricity, and 61 picnic tables, six of them sheltered. Activities include the following:
Bird watching
Boating (non-motorized)
Freshwater fishing (Cascade Lake is stocked with cutthroat, kokanee, and rainbow trout.)
Hiking (38 miles of trails) and biking (11 miles of trails)
Horseback riding (6 miles of trails)
Swimming
Wildlife watching
Between Memorial Day and Labor Day, boat rentals are available, as well as a stocked snack bar.
6. Ohanapecosh Campground
The primary attraction at Mount Rainier National Park is the 14,411-foot glacier-clad volcano that makes up the mountain for which the park is named. The large Ohanapecosh Campground is located on the southeast side of the park. Among the ancient trees, it has 188 sites for tent or RV. Although it has drinking water, flush toilets, and a dump station, it has no electric hookups.
Along with the visitor center and amphitheater, there are a variety of popular activities to enjoy, including hiking, rock climbing, and sightseeing. Several trails even lead to the Silver Falls waterfall. The campground is fairly private, but campers should take care when storing their food since bears, as well as other animals are indigenous to the area.
7. Palouse Falls State Park
During the spring and summer, the fabulous Palouse Falls drops large amounts of water from a dizzying height of 198-feet. This 105-acre camping park has an interesting history, as well as an unusual geology. Palouse Falls State Park has 11 tent sites (one is ADA accessible) and a pit toilet restroom. The park has no hook-ups.
Within the 2-acres designated for picnicking, there is one shelter with a brazier and table, seven uncovered braziers available for visitors' use, and 15 unsheltered picnic tables. Along with bird and wildlife watching, campers can hike the trails. One quarter-mile trail that overlooks the waterfall is even ADA accessible.
8. South Fork Hoh Campground
This primitive campground requires a bit of dedication to reach. The trail, which starts in heavily logged Washington State DNR land, requires campers to cross several streams ranging from shallow to deep and from slow to rapid before they even reach the boundary of the national park. About three miles from the start of the trek, the trail abruptly ends at the South Fork Hoh Campground. This is located within an ancient forest with enormous trees and, although there are many fly fishermen who frequent the banks, there are few hikers.
You can camp on any established sites or on ground that is bare of vegetation and at least 200-feet from any water sources. This is a "leave no trace" campsite. That means there are no toilet facilities and campers are expected to bury waste (at least 6- to 8-inches deep, at least 200-feet from campsites and water sources) and to pack out their toilet paper. It also means that campfires are only allowed in certain areas and they should be thoroughly dismantled before departure. There should be no sign that you were there when you leave.
Be advised, it is essential for you health that you boil, filter, or chemically treat drinking water collected from the Hoh River and nearby streams. Additionally, due to local bears and other wildlife, it is necessary that you secure your food at all times. Bear canisters are recommended. Also, the South Fork Hoh Campground has no nighty camping fee, but does requires a Discover Pass for use.
9. Steamboat Rock State Park
Dominated by a 600-acre, cylindrical, basaltic rock, Steamboat Rock State Park has 50,000 feet of shoreline at the northern end of Banks Lake. The main campground of the 3,522-acre camping park has 26 tent spaces, 136 full hook-up utility sites with a maximum length of 50-feet, three cabins, six restrooms and six showers (four ADA), and one dump station. There are also 12 non-reservable, primitive boat-in sites that have fresh water and vault toilets.
Along with an amphitheater and playground, the park offers the following activities:
Basketball
Bird and wildlife watching (including Bald eagles)
Boating
Fishing (including ice fishing)
Hiking and biking (13.1-miles of trails)
Horseback riding (10 miles of trails)
Ice climbing
Nordic skiing
Rock climbing
Snowshoeing
Swimming
Volleyball
Water skiing
Fabulous Crown Point stays open until after the popular laser light evening show at Grand Coulee Dam ends. Be advised, the Steamboat Rock State Park requires a Discover Pass that is usually absorbed in the camping fees.
10. Takhlakh Lake Campground
Located in the northern part of the Gifford Pinchot National Forest, the Takhlakh Lake Campground lies at the foot of Mount Adams. The campground provides 54 back-in and tent sites with unpaved parking areas that range from 15- to 40-feet long. There is no running water, so campers should plan to bring their own drinking water. There are, however vault toilets and each site has a picnic table and campfire ring.
Hiking, fishing, and boating are the primary activities offered at this campground. The Takhlakh Loop, for example is an ideal hiking trail no matter what your level of skill and experience is. There are also trailheads that lead to the 2,663-mile Pacific Crest Trail for those who are more adventurous. Although the lake is reserved for non-motorized vehicles, it can provide a perfect experience for fishermen and those who prefer to cruise the water in a canoe or kayak.
In Conclusion
Even when the most well known campgrounds have filled up over busy holiday weekends, you still have several fantastic options. With a range of amenities and activities, you are sure to find one that meets the needs of your group.
Remember to check individual park websites or contact the agency responsible for the campground — parks.wa.gov and recreation.gov — for regulations and availability. If you found this helpful or inspirational, please share with your fellow campers and those who seek more secluded areas to visit. These remote locations can help you experience life in a different way.