RV Parts & Accessories
August 6th, 2015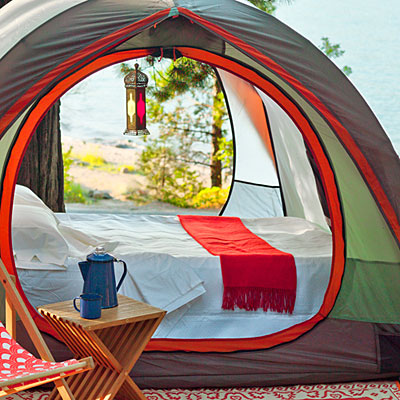 No longer does the average person who is accustomed to comfort need to shy away from the glory that is camping. With new practical and interesting camping supplies popping up seemingly all the time, camping can be as comfortable as sleeping at home.
This guide showcases some of the best and coolest camping gear for the comfy camper.
Sleeping Beauty
In this case, sleeping on the ground might even be better than your bed at home.
Chef in the Wild
These cooking products for camping will make you excited to prepare your meals, and might even convince you to get up and out of your comfy bed to make breakfast!
Pick Yourself Up!
A good air mattress can be an excellent addition to your camping trip. Not only can you find very comfortable blow-up beds, but they raise you above the ground, lessening the chances of critters crawling on you while you sleep!
The Coleman Quickbed is as convenient as it gets. It comes with a built-in pump that plugs into your car's power socket. ($193, coleman.com)
Because you might want a shelter for your super comfy mattress, this REI Kingdom 4 tent is the perfect match. ($389, rei.com)
Dress up Your Bed
Add some flair to your camp bed and make it feel like home. Warm up the night with this alpaca throw. ($169, crateandbarrel.com)
Beautify the Outdoors
This indoor-outdoor rug will almost make you forget that you're in the great outdoors. ($49, vivaterra.com)
Support Yourself
Camping can be hard on your body. Take a load off in a chair that supports your back and lets you relax. The Caligata deck chair ($420, gallantandjones.com) and the teak folding stool ($310, dwr.com) will ease you into comfort with its simple sling back style.
Set the Mood
Headlamps and flashlights are good for collecting firewood and making night trips to the little boy's or girl's room. A lantern, on the other hand, is good for relaxing. Hang a lantern in your tent and set the mood for a quiet evening. ($15 and up, worldmarket.com)
Everything and the Kitchen Sink
This travel sink is completely collapsible and stands upright when full. Whether you need to wash your dishes or beautify your face, the Sea to Summit Kitchen Sink is bound to come in handy. ($25, seatosummit.com)
Like Beds For Your Feet
The Timberland Radler Trail Camp slippers/shoes are the perfect footwear for around the campsite. With a fleece lined interior and rubber treads for outdoor use, these shoes can go from tent to campsite with ease. They even fold in on themselves and zip up for easy storage. ($65, timberland.com)
Light up the Night
The Snow Peak Hozuki LED light is adjustable for any kind of lighting you desire. From dim to bright, to a candle flicker, this little guy will definitely light up the night.  ($90, snowpeak.com)
Stand Up Your Phone
A phone can be helpful even when in the great outdoors. Whether you're taking pictures of the landscape or catching up on missed episodes of your favorite shows, the Joby GorillaMobile holds up your phone and lets you see your screen hands free. ($40, joby.com)
Lay Back and Let the World Go By
It will take you under two minutes to set up the Eagles Nest DoubleNest using Slap Straps ($20) made by the same company. Waste away your day lounging in serenity. ($65, eaglesnestoutfittersinc.com)
Chef's Treat
This camp stove can fit up to a 10-inch of frying pan and a dutch oven right beside each other. It also has just about twice the BTU's of most standard models. The Camp Chef Everest stove is hard to beat. ($117, campchef.com)
Grounded Coffee
The GSI Outdoors JavaGrind coffee grinder is well worth the manual nature of the tool. Grinds just as good as any electric grinder. ($25, gsioutdoors.com)
Heavy On The Spice
With film canisters going out of style, you'll need a new way to store spices while camping. The GSI Outdoors Spice Missile has 6-compartments and rises to the occasion. ($10, gsioutdoors.com)
Stop Whining, Drink Wine
Who wants to drink their wine out of a camp cup? The GSI Outdoors Glacier wineglass has a removable and is great for outdoor travel. ($15, gsioutdoors.com)
Don't Miss Out On Your Espresso Fix
For all the caffeine addicts out there who can't go without their daily espresso, the Presso manual espresso maker has you covered. ($150, presso.us)
More Comfortable Gear To Get You Through The Night
Never let your fear of leaving the comforts and amenities at home hinder you from experiencing all that the great outdoors has to offer. Live free. Camp on.
Source: Sunset.com