Campfire Gourmet Cooking – Simple Recipes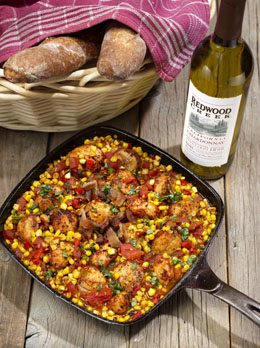 Burgers and chicken are staple campfire meals, simply because we never think to make anything else. These two recipes are so great, they will make it into your kitchen back at home, too.
Get ready for some campfire gourmet dinners under the stars.
Fiesta scallops with corn, red pepper, and crumbled bacon
This dish is full of flavor and color and will serve as a hearty main dish for a few campers.
Cooking time: 15 minutes
Ingredients
5 thick slices of bacon
1 lb. of fresh sea scallops
3 chopped scallions
2/3 cup chopped red bell pepper
3 ears of sweet corn kernels
3 chopped cloves of garlic
1/2 cup of Redwood Creek Chardonnay
Juice of one lime
2 chopped medium ripe tomatoes
½ cup of fresh, chopped basil
Salt and pepper to taste
Method
Using medium heat, crisp the bacon, then take it out and set it aside.
Sear the scallops in the same skillet, for 2 minutes on each side, and then set aside.
Add the scallion, red pepper and corn; sauté for 4 minutes. Add the garlic and stir for an additional minute.
De-glaze the pan by adding some Chardonnay.
Let the wine reduce, then add lime juice, tomatoes, basil, plus salt and pepper to taste
Simmer for 2 minutes.
Add the scallops back in and simmer for 5 minutes. (If you like your scallops rare, you can add just before serving.)
Serve in bowls, and top with the seared bacon and fresh basil sprinkles.
Coal-Roasted, Chuck-box Pozole-Stuffed Onions
Leah Lyon tweaked this Hispanic-cuisine to create a hominy-meat mixture, stuffed in sweet onions. The pozole and onions blend wonderfully. Make a few extra; they are that good!
Cooking time: 30 minutes
Serves 4
Ingredients
4 sweet onions
1 lb. cubed pork sirloin
Salt to taste
Ground cumin
1 cup of cornbread stuffing mix
3 poblano chiles
1 can of drained hominy
1 chopped sweet red pepper
1/2 cup of grated Cortija cheese
Avocado, for garnish
Cojita cheese is also known as Mexican Parmesan and is a little saltier than Parmesan. Substitute with regular Parmesan, if you cannot find Cojita. You can also substitute the pork with any other meat.
Method
Remove the peel, and slice the top and bottom of the onion to remove the core, so that they can sit without rolling over.
Set the onions down and cut an X through them.
Scoop out the middle part, until you are left with a hollow, ¼-inch thick onion.
Dice what you cut out of the onion.
In a bowl, mix part of the diced onion with all the other ingredients, then fill each hollowed-out onion-bowl with this mixture, then wrap in foil.
Keep the onions upright in their foil covers as you place them on the hot coals, for at least 30 minutes.
Place one or two hot coals on the top of the onions.
Garnish with avocado.
What do you think of our campfire gourmet dinners? Let us know by commenting below!