13 Reasons to Take Bus to RV Conversions Seriously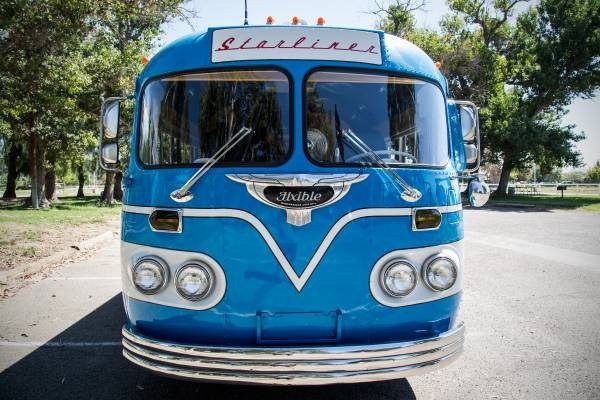 Big, sleek, impressive, and around since 1949. Where some people prefer the bells and whistles of buying a Class A Coach with granite countertops and an "open layout" others prefer outfitting their existing rig with customized accommodations. They prefer the personal touch.
Meet "Starliner". After installing a new GM Crate Ramjet 502 engine, Allison 6-speed transmission, 5.29 REB differential, power steering, and fuel tanks–among other things–she was ready for her debut. The pictures of this beautiful 1949 Flxible Clipper bus to RV conversion demonstrate how turning an aged vehicle into a tiny house can be an extremely rewarding experience. Whether a full-timer or a weekend warrior, taking a rig like "Starliner" ensures that you will be doing so in style. Enjoy the following photos and pass them on to your DIY RV friends.
1. Beautiful Front View From the Inside or Outside
The large windows ensure a fully panoramic view for easy driving. This makes the trip more enjoyable for passengers, as well.
The view remains crystal clear with new NOS Windshields and all flat glass throughout so everyone can enjoy the scenery.
2. Great Lines
With the rounded edges, the Flexible Clipper is one of the most aerodynamically styled buses available. This cuts wind-resistance and maximizes fuel use.
The design is attractive with the white streak; it exudes speed. This model was repainted with the original scheme.
3. Maintains the Original Bus Style
From the outside, the bus appears exactly the same as it did when it was originally produced.
Like most buses, the door features a manual door opener. This one has been updated with a chrome-covered finish.
4. Pristine, Refinished Interior
The entire interior was updated with new upholstery, as well as flooring.
The old-style driver's seat was replaced with a more supportive and modern captain's chair.
5. Completely Refurbished Driver's Area
From the driver's seat, the entire area–steering wheel, etc.–were replaced with pristine versions of the original ones.
This provides the feeling of driving the 1949 Flexible Clipper Bus directly off the showroom floor.
6. Refurbished Control Panel
The authenticity was returned to the rig when all new meter gauges were installed, similar to the originals.
Drive along enjoying your favorite tunes in typical 1949 style. Along with the other replacements, a retro AM/FM radio was built in rather than a new contemporary stereo.
7. State of the Art Power
When parking for the night, there are two options for powering this tiny house. There is a shore power connection and cord when camping at an RV park. A Honda generator with remote controls and new batteries with a Xantrex 2500w inverter/converter ensures the motorhome can park anywhere, fully powered.
A diamond plated engine and cargo bay is illuminated with LED lighting. This allows you to see what you need to regardless of the time of day or night.
8. Maximum Comfort
This bus to RV conversion is all encompassing. The "Starliner" is a fully functioning motorhome. With a dining booth and sofa, it provides plenty of seats for visitors.
It also has two new central air heat/AC units make sure that everyone is comfortable whatever the outdoor temperature may be.
9. Modern Kitchen
No tiny house would be complete without a fully functioning kitchen. This one is small enough to fit comfortably but large enough to provide plenty of counter and storage space.
The new appliances include the sink, refrigerator, and a stove with a range, oven, and exhaust hood. Additionally, the hot water heater, plumbing, and gas lines were installed.
10. Modern Bathroom
As you would probably hope, the bathroom job was completely new. The fixtures are contemporary with a low-flow toilet.
The sink features a faucet with a modern chrome design. The hand-held showerhead matches.
11. Convenient, Utilitarian Bedroom
With spare lines, this bedroom is no-frills. There are two single bunks with individual lighting. Overhead lighting is provided, as well.
Abundant traditional cabin-style storage lines the walls over the beds. The light colored paneling brightens the space.
12. Improvements to the Ride
To guarantee a smooth ride, the suspension was fully rebuilt. Front and rear leaf springs were incorporated.
 It was equipped with a set of new Michelin tires and Alcoa polished wheels. This way, "Starliner" looks as good as she rides.
13. Looks Good Leaving
Since as many people see the Clipper bus–turned RV–from the back as do from the front, it is nice to have a good looking rear.
For this reason, a custom ceramic-coated header chrome exhaust system was installed. Pedestrians can enjoy the view coming and going.
In Conclusion
With a beautiful bus to RV conversion, such as in this example, the owners possess a unique vehicle. They could use the Clipper bus as a recreation vehicle on vacations or road trips. Additionally, they could live in the rig full-time while traveling the country.
However it is used, this specimen is truly one of a kind. It is really too exceptional not to share with others. Whether they have an RV, an interest in vehicles, a love for makeovers, or just like to see something cool, please share this. They'll thank you.
Thanks for reading and don't forget to comment below!