Travel Inspiration
Last updated on December 6th, 2022. Originally published on October 26th, 2017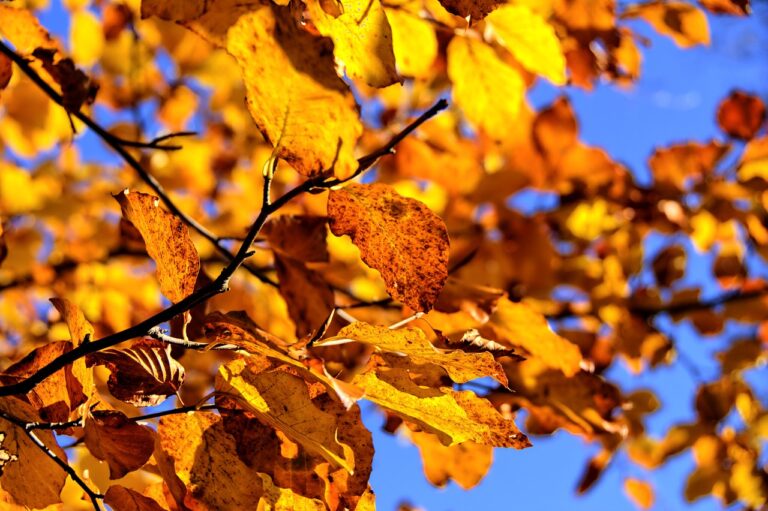 We already know the U.S. is full of amazing destinations for your RV summer vacation… but what about when the temperatures start to drop? Just because it's not July doesn't mean you can't take a road trip. In fact, in a lot of ways, fall travel is even better!
First of all, you won't have to worry about sweating through your favorite outfit, which is always a nice benefit. And since fall is shoulder season, you're likely to find a lot of destinations' services are on offer a good bit cheaper than they were weeks ago. (Add that to your Passport America membership, which gets you 50% off campsite fees at almost 1900 campgrounds, and you basically have no excuse not to pack up and leave right now.)
But it's a great big country we have, after all — just a casual flip through your Rand McNally Road Atlas proves it. With so many places to choose from, which are the best fall destinations?
Fall Road Trips
Obviously, road trips are pretty amazing no matter where you go, especially in a country like the USA. Let's face it: There's beauty pretty much everywhere!
But whether you're looking for a couples' weekend getaway or to pack up the kids for a full-on family vacation, some fall travel destinations are better than others.
Lucky for you, we've got the scoop, no matter what kind of trip you want to get into. Maybe you'll grab your binoculars for some leaf peeping in the northeast… or maybe you want to get a quick thaw at a beach somewhere before winter's weather really sets in. (Psst: Don't forget your towel!)
Either way, here's a list of some of the best, most beautiful fall destinations we can think of.
Fall Color Destinations
Obviously, one of the main reasons people take to the roads in the fall is to check out how the trees have newly gone calico.
Here are some of the nation's top spots if you're looking to "peep" some incredible fall foliage.
1. Ashland, New Hampshire
Nestled on the southern end of the beautiful White Mountain National Forest, this little burg is the perfect spot to camp if you're looking to see some serious leafage. You can enjoy long days hiking amongst the trees before returning to enjoy the quaint downtown amenities.
Looking for some all-inclusive family fun? Ashland's actually home to a Jellystone Park Camp Resort — one of dozens spread across the United States. Even after the novelty of red-orange-yellow foliage wears off, the kids will be endlessly entertained by Yogi Bear's interactive, themed activities, ranging from heated pools and bocce ball courts to wagon rides and more! They offer some of the best vacation packages at reasonable prices, whether you're traveling in October or July.
(Psst: Like we said, Jellystone Parks are all over the country, so no matter where you're headed this fall, there's bound to be one nearby! Here's the map of all their locations.)
2. Athens, Ohio
For a fall leaf trip you won't forget anytime soon, head into the heart of it all.
Athens is home to Ohio University, which means it's bustling with culture and excitement despite its tiny size. And if you're looking for some Halloween fun, well, its annual block party is so legendary it actually has its own Wikipedia entry. (Just maybe don't bring the kids for this one!)
But the real treasure at this destination is nearby Hocking Hills State Park, which will be filled to the brim with shimmering golden and crimson leaves — including lining the paths that beckon you to hike in its many nooks and valleys.
Most Beautiful Fall Destinations
Here are a few more of the best places to visit in autumn, no matter where you are in the USA.
3. Missoula, Montana
Think all the best leaf-peeping is on the east coast? Think again. There's also Missoula, MT.
This western city boasts some of the most beautiful changing leaves in the country, not to mention access to every kind of outdoor pursuit and sport you can imagine. If you're brave enough to strip down in the rapidly-cooling air, you can enjoy a dip in one of the many nearby hot springs, or simply meander around in any of the nearby National Forests or wildernesses. (There are so many to choose from!)
The town itself is also home to the University of Montana, so you'll find lots of interesting indoorsy activities, too, from museums to art galleries.
Don't forget your raincoat and a good pair of boots, though. We are talking about a state that's close to the Pacific Northwest. Things can get a little damp in autumn!
Fall Beach Destinations
Looking for warm places to visit in November can be a little like trying to find a needle in a haystack. By that point, winter's bitter embrace has engulfed most of the country.
But there are a few spots where the sun never sets… or at least, its warmth doesn't!
Here's one of the best fall vacations in the US if all you want is to take the chill out of your bones for a spell.
4. Tybee Island, Georgia
Just a few minutes east of Savannah, there's an island paradise waiting, complete with fresh seafood, sandy beaches, and a lighthouse.
And in case you have any doubts that it's worth visiting, keep in mind it's been a tourist destination for over a century. Heck, the recent Baywatch movie was even filmed there… although not everyone was thrilled about it!
Regardless, come October and November, this sunny spot's still got temperatures in the 60s and 70s, and the water's beautiful to look at even if you can't quite bring yourself to go in. Plus, you can take an easy day trip to Savannah for excellent southern cooking and a walk around the city's charming squares sans all the high summer humidity.
5. St. Petersburg, Florida
Soft-sand beaches, too many excellent restaurants to count, and an art scene that rivals Europe? Yup, it's all waiting for you on the west coast of Florida in the not-so-hidden-anymore gem of a city called St. Petersburg. Oh, and it'll still be 80 degrees.
You probably won't be able to camp right downtown, but there are plenty of options along the city's stretch of beaches… and that's what you're really there for anyway, right?
Happy fall travels, RVers!
This post may contain affiliate links.