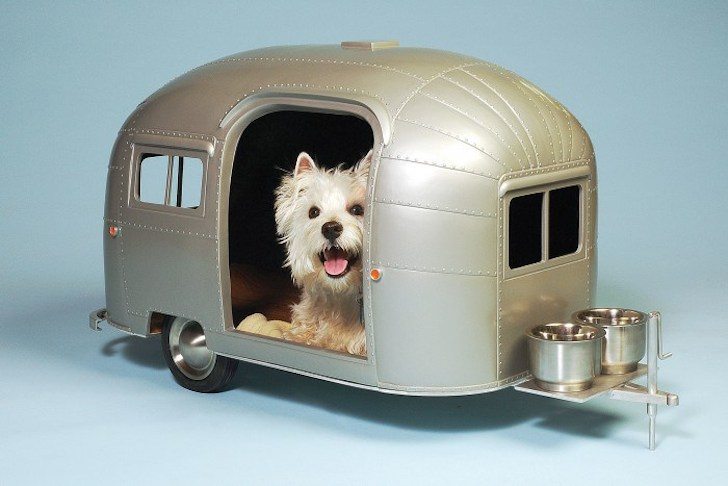 You may be a dyed-in-the-wool RV fan yourself, totally in love with everything about this unique travel lifestyle.
But what about Fido or Fluffy? Did you know that he or she could have their very own pet trailer, too?
No, we're not kidding: one innovative creator has come up with adorable travel-trailer-themed dog houses, allowing you to share your love of RVing with your furry friend. They come in a variety of different styles and colors, and are perfect for people who can't get enough of the RV life… even when they're at home.
In this post, we'll introduce you to the dog trailer (and the artist behind this unique idea, which is absolutely perfect for our readers). Then, we'll walk you through some of the basics of pet travel, including how to find a pet travel carrier, which types of vacations tend to be the most dog-friendly, and so much more.
Read on to learn more about this product we're so obsessed with!
Meet the Pet Trailer
Judson Beaumont is a Vancouverite, though he's originally from Saskatoon, Saskatchewan. And he's a bit of a Jack of all trades: after studying art at both Capilano College and the Emily Carr Institute of Art and Design, he founded his company Straight Line Designs Inc. in 1985, where he creates one-of-a-kind furniture pieces and commissions.
Amongst his bespoke designs, Judson has created iPod docks that look like tree logs, colorful tree stumps that also serve as lights, and a wide array of unique but functional furniture.
And, of course, the product of the hour: his absolutely to-die-for pet trailers, RV-shaped dog houses that make it look like Spot is taking a trip of his own.
Beaumont's pet trailers come in a wide variety of styles, with cutesy names to go along with each model. There's the GRRRRRR, the 2 Cute, and the Cat Nap, along with those with tamer names like Dog Gone or plain old Pet Camper.
Each of these unique pet houses provides the perfect place for a small dog or cat to cuddle up, and they're great to use outside of your sticks and bricks home or to bring along on the road and set up outside the larger version you and your family are sleeping in.
Judson's pet campers have won over a slew of affectionate fans, and we can understand why. Along with his other projects and crafts, he's traveled far and wide to show off his pet trailers, including a visit to the Pet Parade in New Mexico.
Although there's not an easy way to purchase Judson's pet trailers through his website, his contact information is listed and he is responsive, so you could probably inquire about having one built for you and your pet.
While we absolutely adore Beaumont's unique pet trailers, it's safe to say there's nothing else quite like it on the market. Other dog trailers are usually built to be pulled behind bicycles, and while they're certainly useful, they bear not even a passing resemblance to travel trailers.
And although buying a pet trailer might be a cool addition to your pet's digs at home or on the road, there's a whole lot more to enjoying smooth and easy travels when you've got Fido by your side.
Traveling with Dogs
Bringing along your four-legged friends is one of the most attractive things about RVing, for many campers. After all, in a cramped car, the space taken up by even a small dog can feel like a major inconvenience.
But when you've got a whole motorhome or travel trailer at your disposal, sharing space with your favorite furry friend is actually a whole lot of fun. Plus, many campgrounds are in outdoor recreation areas that make for eminently dog-friendly vacations, especially if your pup needs a good day's romp to ensure he chills out and sleeps when mom and dad are ready for downtime.
So, what tips and tricks should you know before you go to ensure you enjoy traveling with your dog, by RV or otherwise? Here are some basic suggestions.
1. Don't forget to add your pup to your packing list.
And we don't just mean the dog him (or her)self! Just like you need food, clothes, and accessories to feel comfortable while you travel, your pup has a packing list, too. Make sure you don't forget to add pet food, dishes, leashes, chew toys, treats, and other favorites to your checklist.
2. Make sure the campground's pet-friendly — BEFORE you get there.
While the vast majority of campgrounds these days are totally pet-friendly, you definitely don't want to find yourself in a scenario where you show up at one that's not… with your pet in tow. You'll either have to turn tail and head home or camp on the sly, breaking the rules, which could get you kicked out and uninvited to ever return.
Rather, check out the campgrounds available near your destination before you're ready to hit the road, and check the website or call ahead to confirm that pets are welcome. Keep in mind, too, that some campgrounds will require an additional fee for pets, which they may assess on a per-pet basis.
3. Keep your dog on a leash, and clean up after him!
Even the pet-friendliest park or campground doesn't want its guests to end up trekking through your pup's muck. And while hiking with your dog off-leash might feel liberating, it can be a major pain for others who aren't as keen on dogs… not to mention those who have their own. (In the worst cases, it can be downright dangerous!)
Also, not all wilderness areas and parks actually do allow dog walking on the trails. This is especially true in the national parks, where the NPS is working hard to preserve the unique flora and fauna found in these one-of-a-kind landscapes. If dogs aren't allowed, be respectful and leave Fido home, or find another place to hike that does allow him to come along for the ride.
Traveling with a Cat
Although slightly less popular than dogs amongst the RV set, cats are still a common companion animal — and motorhome travel does lend itself well to cat ownership! When you travel in an RV, you have plenty of room to allow your kitty to explore and snuggle to her heart's content, as well as to lay down the cat dishes and litter box.
There are some additional tips to keep in mind when you're traveling with a cat, however! Here's perhaps the most important:
4. If you're traveling in a cat, keep her in a pet carrier while you're under way.
We get it; Sassy doesn't love being stuffed into a size-small dog carrier. But even if she carries on and complains the whole way, it's a lot safer for her to be secure and in one place rather than roaming around the RV or car cabin. It's all too easy for a loose cat to work her way under the foot pedals, making driving more difficult and dangerous, not to mention the set of scratches your passengers might receive should you need to slam on the brakes or swerve while she's curled up in someone's lap!
Pet-Friendly Vacations with RVshare
Looking for a dog-friendly RV rental and coming up short?
Well, here at RVshare, many of our owners do allow animals in their rental vehicles. Although it's offered on a case-by-case basis, since our fleet of RVs is offered by everyday RVers just like you and me, many of whom do have their own pets as well, it's not uncommon to find one that's Fido-friendly.
Plus, those RVs may even be set up specifically with pets in mind, including dog beds or food dishes that mean you have one less thing to worry about when you're getting ready for your trip. (But be sure to check with the owner directly before leaving something critical off your packing list!)
Renting through RVshare is a great way to score the lowest prices on rental vehicles while also enjoying some of the best-kept rigs on the market. Our RVs are lived in and loved by their owners, meaning they're comfortable, cozy, and full of character.
Want to find your next great getaway? Check out the RVshare rental listings near you today, and be sure to select the filter for pet-friendly rigs!
This post may contain affiliate links.