Vintage, Shiny, & Cool: A 1957 Airstream Wanderer!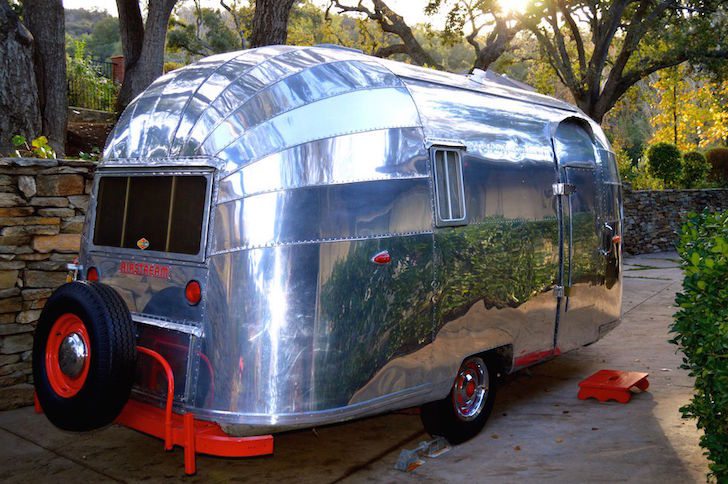 Airstream is the oldest RV company still in the game today, though they're perhaps best known for their mid-century travel trailers. You know the hallmarks of the design. A shiny aluminum exterior, gorgeous curves, and a one of a kind aesthetic that screams Sputnik-era kitsch.
Airstream has made many models over the years and there are quite a few of the vintage varieties still in use today, both as RVs and as stationary guest homes or personal home offices. However, some of the older Airstream models proved to be less popular when they were initially available, and there aren't many of these left in existence. One example of a less popular model is the compact Airstream Wanderer trailer.
Airstream Wanderer Specs
First introduced in the mid-1950s and made for just a few years, this 18-foot toaster-shaped marvel weighed in at just 2,100 pounds, give or take a few. Its light weight made it incredibly easy to haul with just about any vehicle.
The Wanderer was specifically designed with ruggedness in mind. In fact, Airstream's brochure for the 1954 model boasted that the Wanderer was perfect for "rough, back country travel, off the beaten track, where others rarely venture."
It could sleep two, had the option of a toilet (making the Wanderer the smallest Airstream to offer this convenience), and it boasted impressive amounts of both living and storage space.
It's hard to believe that despite all of these details, the Airstream Wanderer wasn't more popular. After a few years Airstream discontinued the model in favor of its more popular options. These days, you might see a lot of vintage Airstream trailers, but you just don't see a lot of Airstream Wanderer models. Every once in a whilethough, one pops up. That's exactly what happened this past January.
An eBay Surprise for Airstream Fans
As it turns out, you really can find anything on eBay — including an amazing 1957 Airstream Wanderer! The one put up for bid a few months back was an absolute gem; the photos make it look like it was gently pulled from a perfectly preserved time capsule. It was a custom 13-panel model that had the appearance of an expertly cut diamond — a much different look than the single piece aluminum construction that most Airstream trailers have.
The Wanderer up for bid had a very low VIN and an interior in immaculate condition with many of the original appliances intact and functioning. There are enough beds to sleep five (cozily but comfortably), shiny wood floors, an appropriately vintage rocket theme on the upholstery and curtains, and even a toilet. The exterior boasts a professional shine job, two coordinating propane tanks, and beautifully contrasting red wheel wells and trim.
The Airstream Wanderer garnered over 20 bids, with the winning price coming in at just under $39,000. This may seem like a lot, but remember, this is an amazing piece of automotive history. Plus, as the seller of the trailer pointed out, the new owner could potentially rent it out for use in TV shows, movies, and commercials for the impressive price of $1000 per day. The scarcity of trailers like this one helps it command such a high rental fee.
Want Your Own Airstream?
Airstream is still in business making trailers with their trademark tin can look. The ones produced today do look a bit more contemporary and streamlined than the mid-century models, but there's no mistaking that classic Airstream aesthetic. If you're looking to buy an RV or a trailer, a new Airstream is definitely within reach.
However, a vintage Airstream may be a little harder to come by. Still, you can find them for sale locally and especially on eBay. The price range on used Airstreams is huge, and it's largely dependent on how much fix-up work you're willing to do to get one road-worthy.
Want to have your own beautiful trailer like this 1957 Airstream Wanderer?
Well, you may not be able to find this exact model, but there are similar small models from the 1950s that can be spruced up and renovated, such as the Safari, the Avion Sportsman, the Globetrotter, and the super small Bambi. Owning an Airstream means owning a piece of Americana, and, as the company's motto goes, allows you to see more, do more, and live more.
Thanks for reading and don't forget to comment and share below!