Choosing The Best 5th Wheel RV Cover For Your RV
Covers
September 5th, 2019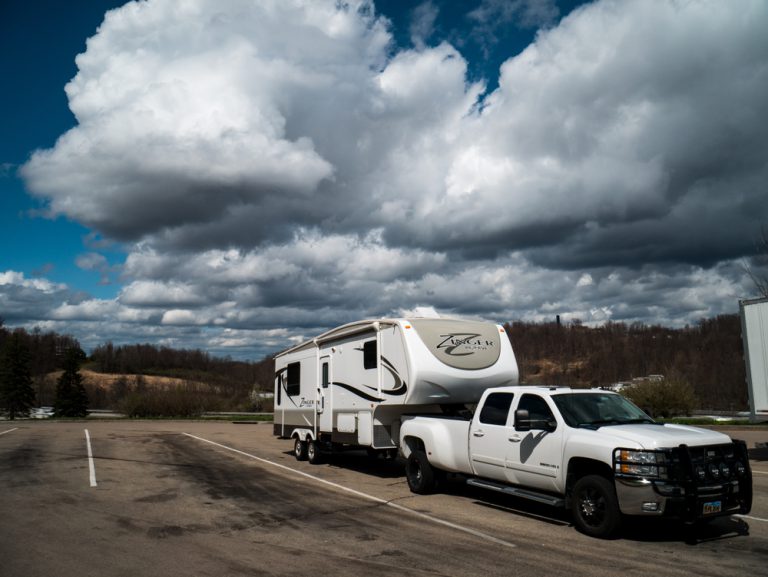 When you're not traveling across the country in your 5th Wheel RV, where you park it and in what condition you leave it in is important. If you park it outdoors, you could return to an RV damaged by harmful UV rays or worse, leaves, tree sap, debris, insects or rodents could have made their way both on the exterior and interior of your RV. That's why one of the most important RV accessories you can purchase are 5th Wheel RV covers.
By keeping your RV covered and protected when not in use, you are not only helping protect it from the elements, you're doing yourself a favor because it can last longer and retain value! Anything that damages the paint of your Fifth Wheel RV, such as tree sap, rainwater or simply sitting in the sun can eventually damage the metal, plastic, and fiberglass underneath.
When shopping for a 5th wheel RV cover, there are a few things to keep in mind. The first is the type of fabric the cover is made of. They are typically made of heavy-duty polypropylene or polyester, with some sort of waterproof or repellent aspect to the fabric. RV covers 5th wheel should also be breathable, to stop mildew or mold from forming.
When selecting a fabric Fifth Wheel RV covers, think about where you'll be keeping your RV when it's not in use. Some 5th Wheel RV covers are best for dust and debris while others are made for extreme weather. If you'll be keeping your RV inside a garage in the offseason, a cover made for dust may be enough, but if you'll be keeping it outdoors in extreme weather like snow or rain, you may need an all-weather cover. You may also want to make sure you're selecting an RV cover that provides additional protection from the sun. If you're not sure which to purchase, you are likely safe with an all-weather RV cover.
It's also important that you're purchasing 5th wheel RV covers that are for a 5th Wheel RV and fit snugly around the entire rig. RV covers should have straps to help with a more secure, snug fit, but it's also important to make sure you're measuring your RV before shopping for a cover.
You'll want to make sure you are actually measuring your RV and not just going by the specs found in your owner's manual, because it's not always the most accurate. To get the most accurate measurement for a 5th wheel RV cover, measure your RV from end to end, including length and height, not including propane tanks, hitches or rooftop accessories like an air conditioning unit. If the measurements fall in between fifth wheel RV covers sizes available, you'll want to purchase the larger size.
Some of the best Fifth Wheel RV covers available include ADCO, CAMCO, Classic Accessories, Cover Craft and Eevelle. RV covers can range quite a bit in pricing, due to the size and material, but a range can be between $200 – $500.
Every RV owner knows the importance of keeping up with maintenance and keeping your RV in general good shape, and fifth wheel RV covers are just as important as monthly or yearly maintenance! An RV cover is a must when your RV is stored away in the offseason. 
This post may contain affiliate links.