25 Airstream Trailers That Will Amaze You
RV Owners
September 21st, 2015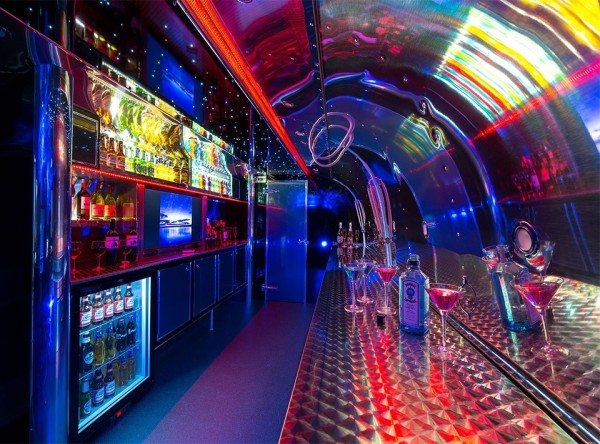 The original Airstream went on its first trip in 1929. It was created out of a husband's wish to find a compromise with his wife.
The founder of Airstream, Wally Byam, loved to go camping. But his wife didn't want any part of it. She didn't like the thought of sleeping on the ground, or camping without her kitchen.
To please his wife and to fulfill his wish of taking her to the great outdoors, he created the first Airstream trailer. While on trips with his wife, his trailer started to generate a bit of interest. Byam seized the opportunity that was in front of him and began building trailers in his backyard. This eventually led to the founding of the Airstream Trailer Company in 1932.
Since then, the Airstream trailer has grown into an iconic symbol of the RVing lifestyle. But there are those that are taking this trailer to a whole other level. Many owners are remodeling their rigs and producing wondrous results. Whether you like modern or shabby chic decor, their designs are sure to inspire.
Interested in learning more? Check out the following 25 renovated Airstream trailers for some design inspiration.
1. Here's the Story of a Lovely Lady…
This charming retro Airstream brings to mind the days when the Brady Bunch graced our TVs. Go back in time with just one step into this den of nostalgia.
2. Route 66, Here I Come!
This vintage themed Airstream gets you in the mood to hit the road and the checkered flooring adds an extra air of authenticity.
3. Raise the Roof
You don't have to go far to find the bar on weekends because this Airstream is the party. You can bring the bar wherever you decide to roam.
4. Anchors Away!
The deep blue accents in the bedroom of this Airstream brings to mind thoughts of the ocean. The huge mural and blue coral reef pillows are excellent toppers for this nautical theme.
5. Swiss Army Perfection
Victorinox Swiss Army has sold their infamous knives for 125 years. To celebrate this impressive anniversary, they decided to celebrate in style with a commemorative renovated this Airstream. The sophisticated and sleek custom design is perfectly complemented by the red accents.
6. Inside Out
The designer of this Airstream brought the beauty of the iconic aluminum exterior inside. The compelling mix of colors makes for a complex but striking design.
7. Country Music Meets Bohemian Chic
Everyone loves country star Miranda Lambert for her beautiful songs. Now you'll have another reason to love her when you see her amazing renovated Airstream. It can only be described as boho-chic at its best.
8. Wine Lovers Unite!
The wine loving bunch on TBS' cougar town would go gaga over this Airstream. With wine coolers located throughout, this trailer is the wine lover's dream.
9. Flower Power
From top to bottom, this Airstream is pure floral perfection. The black furniture and crystal chandelier are excellent finishing touches.
10. Partying in Style
It's hard to miss the full serving bar that is smack dab in the middle of this contemporary Airstream. It's perfect for those with an active social life.
11. Ralph Lauren Presents Manly Man
Ralph Lauren, famous fashion designer, is the mind behind this manly Airsteam. It does an excellent job of bringing a touch of ruggedness to the interior design.
12. The Home of the Next Carlos Santana
Guitar lovers will swoon over this Fender themed Airstream. It's the perfect place to have a sweet jam session with your other music loving friends.
13. Let There Be Light!
The white walls and curtains coupled with the simple color scheme create a light and airy vibe. This elegant and bright interior Airstream is perfect for a summer on the Cape.
14. Kaleidoscope on Wheels
The bright colors and vibrant patterns in this Airstream give it a unique look that somehow works. There's no doubt about it — this trailer is a showstopper.
15. The Open Road Beckons
This travel themed Airstream is perfect for those with dreams of seeing the world. The bathroom, with its atlas covered walls and modern glass shower is the star of this show while the wood paneled flooring adds a nice homey touch.
16. You're Not in Kansas Anymore
This Dorothy inspired Airstream is located in South Africa at the Grand Daddy Hotel. Grab your dog, Toto, and your picnic basket and drive, not walk, down Yellow Brick Road with this beauty.
17. An Airstream with a Midas Touch
The gold accents in this mobile getaway exude luxury. It's the perfect place to retire to after a grueling day on the trail.
18. Fit for Royalty
This Airstream oozes glamor and luxury on wheels. Its unique mix of textures and colors is fit for royalty.
19. This Airstream Can See Into the Future
This unique Airstream exudes the allure of the exotic gypsy culture. It's easy to be a free spirit in this luxurious space.
20. Easy Sophistication
The sophisticated design of this Airstream puts virtually every apartment to shame. With its wood flooring and bold accents, it is the perfect home away from home.
23. Find Your Bliss
A ton of windows, green plants, and neutral colors give this Airstream an airy and bright. It's easy to relax in a space like this, that radiates peace and serenity.
24. Let the Sun Shine In
The goal of of every road trip vacation is to see  scenic landscapes and to have a memorable experience. This Airstream's wall to wall windows lets you have both in one luxurious package. Plus, the windows lets the light in for an airy and bright feel that takes this design to the next level.
25. Rural Luxury at its Best
The wooden ceiling and whitewashed cabinets are reminiscent of a quaint country getaway. Plus, the chandelier and marble counter tops add a touch of class that can only be described as country chic.
What do you think about the Airsteams on this list? Did any of them inspire you to renovate your rig? Share your thoughts in the comments below.