18 Amazing Camping Breakfasts
How Tos & Tips
May 13th, 2015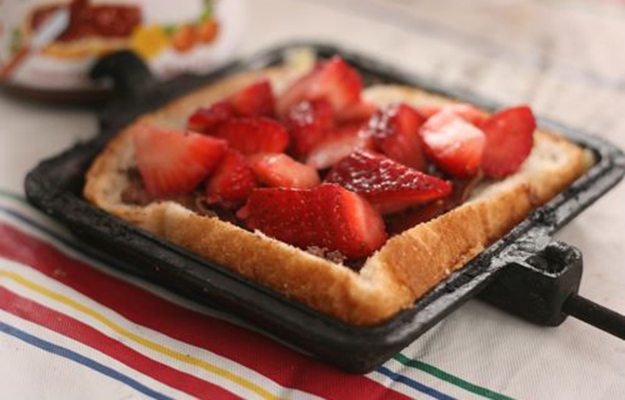 Mornings at camp are about to get tasty; whether you choose to prepare these before hand or start from scratch at your camping site, these recipes will get your days started right.
Strawberry and Nutella Sandwich
This dessert sandwich will satisfy the sweetest tooth.
Ingredients
Nutella
Fresh strawberries
White bread
Squeezable butter or Pam
Method
Spread or spray butter or Pam on bread
Place it in pie iron
Spread Nutela on bread
Cover with strawberries
Cover with second slice of bread and cook for about 3 minutes till crisp
Flip and cook on the other side.
Serve with hot coffee.
Fruit and Yogurt Cones
Fruit and yogurt cones are much better and healthier than ice cream cones.
Ingredients
Blueberries
Strawberries
Vanilla yogurt
Waffle ice-cream cones
Method
Wash, then slice the blueberries and strawberries.
Add a spoonful of vanilla yogurt to the waffle ice-cream cone, then add some of the chopped fruit
Add another spoonful of yogurt and repeat, till the cone is full.
Chill in freezer for an hour
Serve
Add chocolate chips or almonds for more flavor.
Campfire Breakfast Burgers
These campfire breakfast burgers make a hearty camping breakfast. They work just as well at dinner time.
Ingredients
2 cups of flour
1 tablespoon sugar
3 teaspoons baking powder
1 teaspoon salt
6 table spoons dry milk powder
4 tablespoons canola oil
2 teaspoons black pepper
12 eggs
12 sausage patties
1 cup of water.
Method
Mix flour, sugar, salt, milk powder, baking powder, canola oil and black pepper in a bowl.
Pour water in mixture slowly until it becomes a thick batter.
Add cheddar cheese and incorporate well
Add oil to coat your pan
Scoop mix into pan creating one biscuit at a time
Cook until golden brown on both sides. Remove and set aside
Add sausages to pan and cook through then remove and set aside
Cook eggs as desired
To serve
Split biscuit in half and top with egg and sausage
Add ketchup if desired
Top with other half of biscuit
Enjoy.
This recipe makes 12 biscuits. Simply cut the ingredients in half to make 6 biscuits.
Dutch Oven Bacon Cheese Pull-Apart
These buttery warm rolls sprinkled with cheese are a delicious way to start the day.
Ingredients
¼ cup of melted butter
2 cups of grated cheddar cheese
8 pieces of cooked bacon
14 thawed Rhodes dinner rolls
12 inch Dutch oven
Method
Pour butter in Dutch oven
Cut rolls into halves
Roll in butter then arrange in the Dutch oven
Sprinkle with cheese and top with bacon
Cover and let it rise
Bake for 25 minutes at 350°F.
Serve
Campfire Hash
This recipe makes a hearty breakfast meal or a tasty meal after a day at camp.
Ingredients
2 tablespoons canola oil
2 minced garlic cloves
1 large onion
4 large cubed potatoes
4 ounces green chills chopped
1 can whole kernel corn
1 pound of polish sausage or smoked Kielbasa
Method
Pour oil in skillet and cook onions till tender
Add garlic and let cook for a minute more
Add potatoes and let them cook until tender
Add kielbasa or sausages and cook until tender
Add chilies and kernel corn and let this cook for another minute or two.
Serve with medium bodied white wine.
Campfire Raspberry Double Dutch Baby
The Dutch baby is a custard-y pancake that puffs up while cooking. It will sink back down when cut into.
Ingredients
1 cup flour
6 eggs
1 cup of milk
2 cups of raspberries
¼ cup of butter
2 tablespoons sugar
Maple syrup
Method
Mix four and eggs in a large bowl until smooth.
Add sugar, milk and salt and mix again until well incorporated
Set Dutch oven in coals and add butter. After it melts, spread it around the pan to cover well.
Pour in batter
Add 1 and a half cups of berries
Cover and add coals.
The Dutch baby cooks to a deep golden brown after about 20 minutes. Pierce the center using a toothpick or fork to ensure no liquid is left inside; if the fork comes out clean, the Dutch baby is done. To serve, scatter remaining berries, and cut into wedges and top with syrup.
Camping Breakfast Sandwich
These simple sandwiches are filling and very tasty.
Ingredients
English muffins
Bacon
Cheddar cheese
Fresh tomatoes
Scrambled eggs
Method
Scramble the eggs and set them aside
Cook bacon and set it aside
Slice muffins in half and assemble sandwiches
If you like warm sandwiches, wrap it in tin foil, then set over hot coals for a few minutes.
Potato Sausage Foil Pack
This is a fast and simple meal can be had for breakfast or dinner.
Ingredients
2 peeled potatoes cut in wedges
1 medium onion
4 teaspoons lemon juice
4 teaspoons olive oil
1 green pepper
½ teaspoon garlic powder
1 yellow pepper
¼ teaspoon salt
½ teaspoon pepper
1 red pepper
1 package sliced smoked turkey kielbasa
Method
Mix potatoes, kielbasa, peppers and onion and drizzle with oil and lemon juice
Sprinkle garlic powder, salt and pepper
Divide mixture into four and wrap each portion with heavy duty foil.
Fold and seal foil tightly
Grill over medium heat until potatoes are cooked through
Unwrap foil
Serve
Campfire Bacon
This is a technique used to make crispy bacon on an open fire.
Method
Weave each bacon strip onto the skewer leaving a gap in between each weave.
Place the skewers on your fire rotating every few minutes so they can cook evenly.
Expect a few flare-ups as the bacon grease hits the fire.
Enjoy your crispy tender bacon
Stuffed French Toast
If you have a pie iron, breakfast at camp can be easy to make and nutritious. This stuffed French toast in a pie iron will not disappoint.
Ingredients
1 tablespoon cream cheese
5 banana slices
Butter
2 slices cinnamon bread
1 teaspoon chopped walnuts
Maple syrup
Method
Melt butter on pie iron
Butter both slices of bread
Place one slice on pie iron and spread cream cheese, banana and walnuts on top.
Cover with second slice
Cook until brown
Serve with maple syrup.
Campfire Mexican Omelet
Nothing beats a cold morning at camp better than a warm breakfast. This Mexican omelet with Chorizo is one of those breakfasts that will become a family favorite.
Ingredients
8 beaten eggs
4 corn tortillas
½ pound chorizo sausage
2 tablespoons olive oil
1 ½ cups of cheddar cheese
¼ cup diced dried sweet onions
2tbs sour cream
2 tablespoons salsa
Method
Put chorizo in pan and break up into smaller pieces then place over hot coals. Let it cook as you continue to break it apart to look like taco filling.
Rip tortilla chips into quarters
Scrape the meat onto one side of the pan and add some oil
Place tortilla chips on the empty side of the pan and let them crisp.  When all chips are crisp, let them sit at the bottom of the pan with the meat on top. It should look like a mess so don't worry.
Pour eggs on top of meat and wait 3 minutes
Lift one side of the meat at a time letting the remaining egg seep into the bottom. Do this until the entire dish is loose from the sides of the pan.
Spread cheddar cheese on top and cover.
Let it cook for about one more minute then take off the fire, leaving the cover on.
To serve
After a few minutes, take the cover off and cut omelet into quarters then serve. Add salsa or sour cream as desired.
This recipe makes enough for 4 adults.
Easy Cheesy Bacon Quiche
This tasty Bacon quiche melts in your mouth and is super easy to make on a bed of hot coals.
Ingredients
1 pound cooked crumbled bacon
½ package refrigerated pie crust
8 ounces shredded Colby and Monterey jack cheese
¾ sup of sour cream
1 large chopped green pepper
½ teaspoon salt
½ teaspoon black pepper
6 eggs
Method
Fit crust in bottom of Dutch oven and bake for 4 minutes
Whisk sour cream and eggs together in small bowl.
Add salt and pepper to taste
Sprinkle cheese, bacon evenly over crust
Pour in egg mixture
Bake for 40 minutes or until the center is solid
To serve
Garnish with chopped bacon and cut into wedges.
Bacon Wrapped Cinnamon Rolls
This breakfast camp recipe will have your family drooling while it cooks. The recipe makes 5 rolls.
Ingredients
5 thick strips of bacon
Maple syrup
1 tube of cinnamon roll dough
Method
Heat pan and fry bacon leaving them soft but cooked. Place on paper towels.
Unroll cinnamon rolls then place a strip of bacon and roll them up again
Spray Dutch oven with cooking oil and place on bed f coals
Put all the rolls in the oven and let them cook through. They should be done in 25 minutes.
To serve
Drizzle with icing or maple syrup.
Lumber Jack Breakfast Pancakes
This recipe is made in tin foil and creates a great hearty breakfast meal every time.
Ingredients
Sausage or bacon
Leftover cooked potatoes/ frozen hash browns
Eggs
Chopped tomatoes
Onion if desired
Shredded cheese
Method
Spray foil with cooking oil then lay bacon or sausages on top, this allows the meat to cook first as it is directly on the fire.
Add a handful of potatoes, or hash browns, tomatoes, onion and an egg
Wrap carefully and place on heat.
Remove from fire after 20 minutes or when meat is cooked
To serve
Add shredded cheese and viola, breakfast is served.
Campfire Cow-Horn Biscuits
Filled with butter and strawberry jelly, the smell of these biscuits on a campfire will fill the air with deliciousness.
Ingredients
1 Hardwood stick whittled clean 1 or 2 inches in diameter.
Canned biscuits
Method
Wrap a biscuit round the end of a stick. Fashion the end into a cow horn shape.
Hold the stick over the fire turning every so often until it becomes a golden brown
Hold your stick a little further from the flame and continue to cook until the inside is done.
Remove from stick
To serve
The possibilities are endless, jelly, butter, eggs, smoked ham, chocolate, fruits; whatever your heart desires can be used to fill the biscuits
Enjoy.
Campfire Beer Pancakes
This recipe makes 16 soft fluffy pancakes.
Ingredients
½ cups toasted pine nuts
2 cups of any pale beer (Heineken, Budweiser or corona are recommended)
2 eggs
½ cup currants
3 1/3 cup all purpose baking mix
¼ cup vegetable oil
Butter or maple syrup
Method
Combine nuts, currants and baking mix in large bowl
Create a hole in the center and add beer, vegetable oil and eggs
Stir lightly batter until mixed.
Heat oiled pan
¼ cup of batter is enough for one pancake, ladle into pan and cook until bubbles form on the top then flip on the other side and cook until golden brown
Repeat until batter is finished
Add oil between pancakes if the pan gets dry.
Serve hot with butter and maple syrup.
Campfire Orange Cinnamon Rolls
These cinnamon rolls are super moist and infused with orange.
Ingredients
8 oranges
1 can cinnamon rolls
Foil
Method
Cut a circle on the top of the oranges and scoop them out.
Stick a cinnamon roll in each hollowed orange peel
Wrap in foil
Cook for about 12 minutes or until the cinnamon rolls are done
Remove from fire
To serve
Drizzle frosting over cinnamon rolls and enjoy.
Blueberry Breakfast Grilled Cheese Sandwiches
This grilled cheese sandwich will remind you of blueberry pop tarts.
Ingredients
Icing sugar
Whole wheat bread
Butter
Blueberries
Cream cheese
Sandwich maker
Method
Butter outside of the bread
Mix cream cheese with icing to taste
Spread on the inside of bread.
Place bread buttered side don on sandwich maker
Sprinkle blueberries on top
Place second slice on top
Close and grill until brown
Serve
Make sure to try some of these recipes next time you're around the campsite!
Thanks for reading and don't forget to comment below!