17 Camping Recipes to Please Every Palate
How Tos & Tips
August 21st, 2015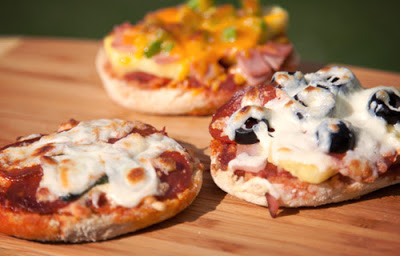 Let's face it, when we go camping there's aren't many culinary options. That is, unless you head into town for take out. But that's all about to change.
Check out these 17 delicious and simple camping recipes that will make your mouth water.
1. Potato Boat Dinner
Before we begin this recipe, it is important to note that you should bake the potatoes at home. Once this has been completed, chill them and wrap them in tin foil for the camping trip.
What You Will Need:
Sliced ham
Large baked potatoes
Cooked bacon slice
Cheese slices (your preference)
Green onions
Sour cream
Butter
Salt
Pepper
Instructions:
Slice the baked potatoes.
Put ham, bacon, and cheese between the slices and add little dabs of butter to each slice.
Season with salt and pepper.
Spray tin foil lightly with cooking spray and wrap each potato. Two sheets of tin foil are recommended.
Place tin foiled wrapped potato on the grill for at least 20 minutes.
Top with green onion and sour cream.
2. Campfire Sausage Sandwich
What You Will Need:
2 Precooked sausages
½ red bell pepper, seeds and stem removed
2 hamburger buns
2 tbsp chopped onions
2 tbsp dijon mustard
1 tbsp rice vinegar
1/8 tsp sugar
Instructions:
Grill red peppers, skin side down, until the skin is lightly charred.
Remove from heat and use a spoon to remove the skin of the pepper.
Cut the pepper into small pieces and mix it with the sugar, vinegar, and onion greens.
Roast or grill the sausages using a stick or long fork. Rotate them until there's a light char on all sides.
Toast the hamburger buns over the fire.
Slice the sausages horizontally and then in half, you should have four slices of each sausage.
Spread dijon mustard on the buns and top with the sausage slices and the onion and pepper mixture.
3. Mountain Man Skillet Breakfast
What You Will Need:
16 oz package of ground sausages
26 oz package of shredded or diced hash browns
1 dozen eggs
2 cups of shredded cheddar cheese
1 package of bacon
Salt
Pepper
Fresh parsley or fennel
Instructions:
Cook the bacon to desired crispiness and remove it from the skillet. Do not drain the grease.
Add the sausage to the skillet and cook until browned. Remove from skillet.
Scramble eggs in a separate bowl and cut bacon into bits.
Add hash browns to the skillet and cook until browned.
Add sausage and eggs to hash browns, stir when needed.
When eggs are almost done, add the bacon and cheese.
Cover the skillet and cook until cheese is melted.
Remove from heat and sprinkle with fennel or parsley.
4. Chicken Enchilada Nacho Bowl
Before we begin it is important to note that that you should prepare the chicken mixture at home.
What You Will Need:
Chicken and Sauce
1 sliced medium onion
1 tbsp olive oil
1 10 oz can of enchilada sauce
1 tsp Mexican oregano, dried
1 cup of canned crushed tomatoes
1 15 oz can of drained and rinsed reduced sodium black beans
1 can of minced chipotle chile
2 cups of rotisserie chicken, shredded
1 tbsp on light brown sugar
Nachos
8 oz of coarsely crushed tortilla chips
1 ¼ cups of cheddar cheese, shredded
½ cup of cilantro
2 cups of lettuce, shredded
Hot sauce and lime wedges
Instructions:
Heat the oil in a large frying pan over medium heat.
Add the onions and cook about 7 minutes until softened.
Add beans, tomatoes, enchilada sauce, sugar, chile, and oregano for 4 minutes, stir occasionally.
Stir in chicken and cook for 4 minutes. Remove from heat.
Place chips in individual bowls and top with the chicken mixture, cilantro, lettuce, and cheese.
Serve with hot sauce and lime wedges.
5. Breakfast Burritos
Ingredients:
8 flour tortilla
8 oz of ground sausages
8 eggs, beaten
½ minced medium onion
8 oz bag of cheddar cheese, shredded
Instructions:
Cook the sausage until browned.
Drain most of the grease from the pan and add the onion and eggs. Cook until eggs are solid and remove from heat.
Wrap tortillas in foil and warm on fire for about 30-45 seconds.
Add egg and sausage mixture to a tortilla and top with cheese.
Roll up tortilla and enjoy.
6. Campfire Blueberry Orange Muffins
What You Will Need:
Blueberry muffin mix
10 oranges
Instructions:
Follow the package directions on the blueberry muffin mix.
Cut the oranges in half and scoop out all the flesh (you can use it to make homemade orange juice).
Fill 10 emptied orange halves with blueberry muffin mix.
Use the empty orange halves to cover the filled orange halves.
Wrap with three layers of foil.
Toss them onto the fire for ten minutes, turning the balls every minute.
Remove from fire after ten minutes and enjoy.
7. Chorizo Quesadilla
What You Will Need:
½ cup of monterey jack cheese
8 oz of ground chorizo sausage
2 large flour tortillas
1 peeled and diced small potatoes
1 finely chopped clove of garlic
½ diced small onion
Salsa
Sour cream
Chopped cilantro
Instructions:
Brown the chorizo sausage over medium heat in a frying pan.
Add onion, garlic, and potato to pan. Cook until meat is cooked through and potatoes are soft.
In another medium frying pan, add a tortilla and cover it with the meat mixture and cheese.
When the cheese is melted, place a second tortilla on top.
Brown both sides.
Serve with sour cream, cilantro, and salsa.
8. Whole Wheat Pasta Foil
Before we begin it is important to note that the pasta in this recipe should be cooked at home. Once this has been completed, rinse the pasta in cold water and place it in a resealable plastic bag.
What You Will Need:
6 Chopped Roma tomatoes
½ tsp salt
¼ tsp pepper
1 cup coarsely chopped basil leaves
3 cloves finely chopped garlic
4 oz goat cheese
1 1b cooked pasta
3 tbsp olive oil
6 Lemon wedges
Instructions:
Preheat the grill.
Combine chopped tomatoes, basil, olive oil, spaghetti, basil, and garlic in one bowl.
Divide the mixture among 6 double layered pieces of aluminum foil.
Squeeze one lemon wedge over each packet and place the lemon wedge on top.
Add a dollop of goat cheese on top of each packet.
Fold the foil to form a package.
Add packets to grill and let cook for about 10 minutes.
Remove from heat and enjoy.
9. Campfire Roasted Potatoes
What You Will Need:
Olive oil
2 tbsp paprika
4 or 5 washed medium potatoes
1 washed medium onion
Salt
Pepper
2 tbsp garlic powder
Instructions:
Slice the onion.
Cut the potatoes into big chunks.
Coat potatoes with olive oil.
Add spices and onion slices to potatoes.
Place mixture in foil and fold into a pouch.
Place on fire and cook until potatoes are tender — anywhere from 45 minutes to one hour.
Remove from fire and serve.
10. Grilled Waffle Treat
What You Will Need:
1 cup of semisweet chocolate chips
1 cups of miniature marshmallows
8 frozen waffles
Instructions:
Place a waffle on two pieces of heavy-duty foil. Top with ¼ cup of chocolate chips and marshmallows.
Top with another waffle.
Fold the aluminum foil around the sandwich and seal tightly. Repeat steps 1-3 three more times.
Place waffle treats on fire and cook for about ten minutes, turning once.
Remove from fire and serve.
11. Grilled Pizza
What You Will Need:
1 jar of pizza sauce
Favorite pizza toppings
1 package of English muffins
1 bag of shredded cheese
Instructions:
Put thin layer of pizza sauce on English muffin halves.
Place cheese on each slice.
Add favorite toppings.
Put foil on grill and place pizza on top.
Cook until cheese is golden brown.
12. Fiesta Scallops
What You Will Need:
3 tbsp lime juice
1 lb sea scallops
½ cup Chardonnay
2 tbsp blackening seasoning
½ cups fresh basil
5 slices of thick cut bacon
2 chopped medium ripe tomatoes
3 chopped scallions
3 cups of sweet corns
2/3 cups or chopped red bell pepper
3 large chopped garlic cloves
Instructions:
Season scallops with blackening seasoning.
Cook the bacon until crisp in a cast-iron skillet on the campfire.
Sear seasoned scallops, about two minutes each side. Set aside.
Add the corn, red pepper, and scallion to skillet and sauté for 4 minutes.
Add garlic and stir for one minute.
Add wine to the skillet and let it reduce for about two minutes.
Add bail, tomato, lime juice, pepper, and salt. Simmer for two minutes.
Add scallops and cook for about five minutes.
Remove mixture from heat and serve in shallow bows.
Top with basil and crumbled bacon.
13. Sausage Hot Pot
What You Will Need:
1 tbsp olive oil
1 tsp dried thyme
1 lb herb or spicy sausages
¼ tsp salt
1 large chopped onion
Black pepper
2 sliced and trimmed sticks of celery
12 oz peeled and cubed potatoes
1 crushed clove of garlic
4 oz baby sweet corn
8 oz of sliced dessert apples
2 sliced zucchinis
3 quarts of chicken stock
2 cups of medium dry cider
2 tbsp parsley to garnish
Instructions:
Heat the olive oil in a large saucepan and add the sausage. Let it brown for 10 minutes and set aside.
Leave one tablespoon of the sausage fat in the pan and add celery and onion. Cook until softened.
Add apples and garlic and cook for 3 minutes.
Cut sausage in large chunks.
Add sausage to apple mixture.
Add thyme, salt, pepper, potatoes, and cider. Cover and cook for about ten minutes.
Stir in zucchini and baby sweetcorn. Cover and cook until vegetables are soft.
Garnish with parsley and serve with warmed rolls.
14. Monkey Bread
What You Will Need:
1 large Ziploc bag
1 tbsp of cinnamon
1 tube of Pillsbury dough
Butter
½ cups of brown sugar
Instructions:
Grease the skillet with buttermilk.
Mix cinnamon and sugar in the Ziploc bag.
Pull the biscuits off the roll and shake each biscuit in the bag.
Place the biscuit on the skillet.
Place a small dab of butter on each biscuit.
Cover and cook the bread over medium heat for about 24 minutes.
15. Summer Sausage Hobo Packet
What You Will Need:
1 lb sausage, cut into 1 inch pieces
½ cup of Italian salad dressing
4 peeled medium potatoes, cut into ½ inch cubes
½ cup butter, cut into 8 cubes
3 cups cabbage, shredded
2 medium tomatoes, cut into wedges
1 medium green pepper, cut into strips
1 pound chicken tenderloin, cut into 1 inch pcs.
1 medium sweet red pepper cut into strips
1 sliced small yellow summer squash
1 sliced small zucchini
1 large sweet onion, sliced and halved
Instructions:
Mix all the ingredients, except the butter, in a large bowl.
Divide the mixture among 8 doubled pieces of heavy-duty aluminum foil.
Top each mixture with a cube of butter.
Fold foil around the mixture and seal tightly.
Place on the grill for about 25 minutes.
Remove from heat, add dressing, and serve.
16. Camper's Breakfast Hash
What You Will Need:
¼ cup of cubed butter
1 cups of Cheddar cheese, shredded
40 oz of hash brown potatoes
Salt
Pepper
8 oz of halved brown and serve sausage links
12 eggs, beaten
½ cup of chopped onion
¼ cups of chopped green pepper
Instructions:
Melt butter in a large skillet.
Add sausage, potatoes, onion, and green pepper. Cook for about 15 minutes.
Push potato mixture to the edges of the pan and pour the eggs in the center. Cook until eggs are firm.
Season mixture with salt and pepper.
Mix eggs and potato mixture together.
Top with cheese, cover and cook until cheese is melted.
17. Campfire Panini
What You Will Need:
1 loaf of bread
1 large rock or brick
Cranberry horseradish mustard, or your preference
Tin foil
1 granny smith apple or red delicious apple, per your preference
Salt
Pepper
Brie
Blue cheese
1 1b peppered deli turkey
Instructions:
Spread mustard on bottom slice of bread.
Slice apple and place on top of mustard.
Add turkey on top of apple.
Add blue cheese on top of turkey.
Sprinkle with salt and pepper and cover with second slice of bread.
Wrap in tin foil.
Place on grill and press down with rock or brick.
Cook until toasty.
What do you think of these recipes? Have you ever tried any of them? Did I leave anything out? Leave your thoughts in the comments below. Happy Cooking!